Recent Posts From
News and Events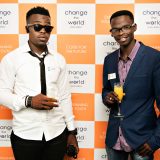 Dell Team has joined Change the World Trust in celebration of their partnership and was honoured as a Platinum sponsor at the Year-end Ceremony along with other partners and the top performing students.
Tekkie Tax Day is a national fundraising campaign for many welfare organisations. This year Dell supported the Disability Sector which comprises of beneficiaries such as the Special Olympics SA, Epilepsy SA and Cheshire Homes SA.
The annual Take a Girl Child to Work Day initiative has always been welcomed by Dell. We believe in the promotion of women into the IT industry and enjoy being a part of such initiatives. This year, we hosted girl learners from Kwena Malope High School in Lanseria who spent a few hours shadowing employees at our JHB office.